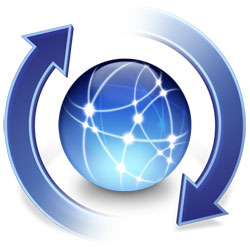 Online Forums are Like a Online Public Discussion Website Where Anyone Can Post Some Message or Some Question And Can Respond to Anyone's Question. Simply Online Forums Helps Everyone Get Solutions to Their Problems Easily Without Going Anywhere or Spending Huge Money on some Consultant. Online Forums are Going too Popular These Days.
Even Bloggers & Webmasters Take Advantages From Online Forums in Several Ways. In This Article We'll Discuss How Online Forums Benefit Bloggers & Webmasters :) .
Almost Each And Every Blogger & Webmaster Uses Forums ( Related to Their Blog's Niche ) to Promote their Blog Posts to Drive Traffic. And Yes it Works Promoting Your Blog in Online Forums Drives a Huge Amount of Traffic to Blogs. After All What Better Place to Promote Your Business, Than a Place Where There are Huge Amount of Members Already Connected to Same Niche as That of Your Blog.
You May Like to Read - Manage Blogging And Studies Both.
Online Forums Are One of the Best Proven Way to Learn How to Make Money Online, As I Already Said That They are Proven Because People Who Are Posting Ways to Make Money Have already Experience with That.
For an Example Take WarriorForum,
In WarriorForum People are Always Spelling Out Different Ways of Earning Money in Details. And These Methods Actually Works Best, Some of Common Methods Told in WarriorForum and Other Online Forums Are Selling E-Books, Doing Surveys etc.
Forums Not Only Drive a Huge Amount of Traffic to Blog, They Also Allow You to Build Quality, Powerful & Long Lasting Backlinks that Can Help your Site Rank Higher in Search Engines, Increase Alexa Rank, Domain Authority & Google Pagerank.
Forums Are the Easiest Way to get Solution For Your Problems Related to Your Blog or Business. Simply Post Your Question on a Related Forum and Soon you will get All the Answers You Need from Other Members. Who Are Usually Eager to Help Other Members.
Verifying Scams vs legitimate
Online Forums Are Best Way to Verify Scams. For Example - You Want to Make Money by Taking Online Surveys & You Have Found a Paid Surveys Site, But Aren't Sure if its a Legitimate Paid Surveys Site or Just Another Paid Surveys Scams. You Can Your Answer through Online Forums to find out if a Website Really pays its Members or Not.
Referral & Affiliate Links Promotion
Although All Forums Don't Allow Referral Links or Promotion of Your Affiliate Products, But Many Online Forums do. They Can be a Great Opportunity to Promote your Referral or Affiliate Links.
The Most Important Thing to Remember About Forums and Using Them as Tools to Help you as Much as you Can. But Don't Spam! Use them Wisely, and Online Forums will Help you in Many Ways.
Note:
If this tutorial worked for you (and it should work), please leave a comment below. Thanks.